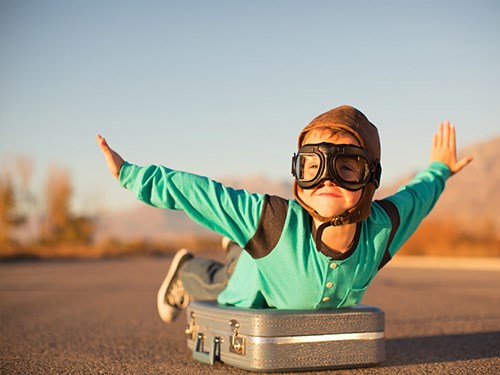 Gone are your carefree days of sipping a pre-flight rosé and slipping on an eye mask after takeoff. You are a parent now, and flying as a family can be a minefield of disasters from blowouts in babies to bazooka barfs in big kids.
Whether you're flying with a toddler prone to sprinting away or a grade schooler who turns into kidzilla when she's bored, here's how you can tackle the most common challenges of flying with kids.
We have compiled some tips from our everyday travelers and parents directly that has made flying much easier for everyone involved.
Sharing all pre-flight duties with your co-parent can result in packing too many snacks and too few passports. When you're flying with kids, give everyone specific tasks. You're in charge of passports and packing for little kids. Older kids can pack their own bags. Your co-parent is in charge of everything else.


---

Don't overpack, on a night flight you won't need much . Think about what you would need for each sector bearing in mind what will be available on board and how long the flight is. (Remember cabin crew also have baby foods and nappies available if you run out)


---

Take advantage of early boarding 


---

When flying on a night flight: If your journey starts on a night flight, the meal service after take off can be a while, so pack a favorite frozen meal (it will defrost by the time you need it) prepared at home in a disposable tin foil in a small cooler that will fit in your cabin bag (seal it in a plastic bag to prevent any leaks and yes security will let you through). Ask the crew to heat it up when you board (about 15 minutes in their ovens). After take-off feed them as soon as you can sticking to your routine as much as possible then give them about an hour to settle down then prepare them for 'bed'. Feeding the troops at the airport before boarding  works just as well. Once they are asleep it will give you time to unwind and settle down. When the meal trays come, take any snacky things with you for your transit stop. After you've eaten, get some sleep, you can catch up on movies on your next flight.


---

Take a stroller – If you are, you can take it to the aircraft door when boarding (families first) the staff will take it to load and before landing ask the crew to arrange with ground staff to bring it back to the door for disembarking (keep your stroller/pram stub with you). Much easier especially when your kiddies fall asleep in your arms and you know how your pram/stroller works.


---

Some of the more modern airports have kids play areas (so head for those) and strollers/prams for you to use so look out for those unless you're taking your own.


---

Definitely bring a favorite cuddle toy per child


---

Pack a change of clothes


---

Take a pack of anti bacterial wet wipes for wiping toilet seats, airport tables, grimy hands and more.


---

Limit sugar and sweets, pack in dry fruit, crisps, crackers, fruit that's easy to peel, dry wors, things THEY eat. Not to much, what's left will have to be tossed on arrival at your destination airport.


---

Rescue drops are wonderful for keeping the stress levels down.


---

Chewy sweets during take-off and landing to help  ears reset OR if still a baby give them a bottle or dummy to suck on during take off and landing or give them bubble gum (for the older kids)


---

Carry motion sickness meds!


---

If you have a longish stop during a transit pack towels or buy some at the airport as some transit destinations have free showers in the airports. It will make u feel much better on such a long trip. Also on that point if you transit is 6 hours+ it is well worth it to book an airport transit hotel in the terminal .  Everyone can take a shower and catch up on some lost sleep.  The hotel will give you a wake up call to be in time to board for you next flight. Everyone will be happy!


---

Parents wear your most comfortable shoes or throw your slippers in your handbag!!!!!!!!!


---

Don't be scared to ask for help from the air hostess or even other parents/passengers around you.  Even if it's just holding the baby or watching a child while you go to the toilet!


---

Activities for on the plane:
Big activity book
wrap smallish toys in wrapping paper and every hour hand a new present to open and play with until they get bored and that should keep the kids busy untill they fall asleep
Keep the fluids & snacky foods handy
games like snakes and ladders, and I-spy (cheap games that you don't mind losing pieces to), new puzzles, new crayons, colouring in pages (downloaded off the net)
18. For Parents – don't stress, remember the chances of seeing any of these people again is slim!
19. REMEMBER: Calm parents = calm toddler jet setters!
Good luck, I'm sure you will do great.