In my opinion, a good flight is one which goes up and down when and where it's supposed to – after that, everything is extra. The last decades saw the growth of giant air travel corporations, and big budget airlines.  As air travel has taken a turn from novel and luxury to du jour and economy, those legacy liners still exist but they're constantly smacking heads against low cost airlines and a hybrid of the two.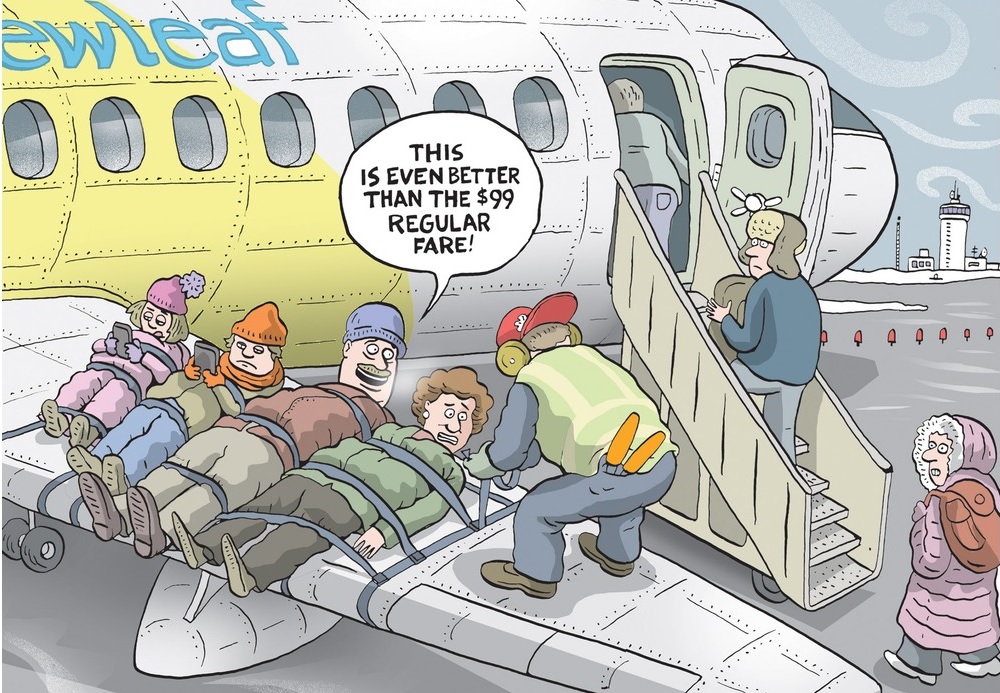 Sure, at first glance, many of those ultra low cost carriers (LCCs) look like they're a bargain deal. The basic price might be less, but what about everything else? Sometimes, that price really is too good to be true, and what your grandmother always told you is true, "You get what you pay for." Will they really save you more money or do they offer a greater headache than you first believed? While it's true, the gap between those big airlines and super low cost carriers has narrowed, there's still more work to be done.
In today's travel world, we all have choices from on-line booking search engines to boutique travel consultants and everything in between . In 2017, the budget airlines have pushed the legacy guys to be better, and they are!  The option of that no frills flying metal tube still exists, or one you can fly in comfort, with all the bells and whistles. While all airlines are governed by the same bodies and safety is not one of the extras you're ever paying for, there's a wide range of what your ticket price includes. If you're willing to strategically plan your journey to find the best flight deals and are interested in knowing exactly what you're paying for – then those ultra low cost options might be for you. Measure the convenience, what ifs, cost, hassles, and headaches against the extras, and choose wisely.
Below are five travel hacks we have come to know after 40+ years in the industry.
1. Ignore the myths
There are many myths online about finding cheap flights. They will lead you astray. The first thing to know about finding a cheap flight is there is no magic bullet or one secret ninja trick. So let me first say: it is NOT cheaper to buy airfare on a Tuesday, there is NO evidence that searching incognito leads to cheaper deals, and there is NO exact date or specific time period in which to book your airfare.
2. Be flexible with your travel dates
Instead, try and be flexible. You're more likely to find cheap flights by flying at unsociable times. "You'll often find cheaper fares on flights scheduled for lighter periods, such as early morning, red-eye flights or flights departing on a Saturday afternoon or evening
3.  Choose to fly when business travellers aren't for cheap upgrades
The days of the free upgrade are long gone, but if you fancy splashing out, bear in mind that while ticket prices for economy seats often rocket during holidays and weekends, the reverse can be said for premium seats. Expect to find cheap business class fares during light business travel periods, such as during the summer or Christmas. But you can always still try your luck at bagging that free upgrade – you might just get lucky!
4. Remember, all search engines aren't equal
You need to search as many flight search websites as you can in order to ensure you are leaving no stone un turned. Many search sites don't list budget carriers because those airlines don't want to pay a booking commission while others don't list booking sites that aren't in English!
It's important to check a few sites before you book, as you'll often see variations in prices, and you don't want to miss a deal. The best search engines are the ones that have no affiliation with any airline and make their money via advertising, not bookings. But all websites have their weaknesses and do not include every airline. As mentioned, you aren't going to find the best deal necessarily on a booking site and they do have blind spots — they don't cover every region of the world and every airline equally.
Remember — there is no perfect airline search engine. Even the best have their faults, or you can save your time, energy, frustration and have your travel consultant find you the best airfare deal.
Plus you do not actually pay the travel consultant, the same way the airlines pays a small commission to the booking site the travel consultant is paid a small commission form the airline. 
5. Join MangoNews mailing list
No one likes to clutter up their inbox, but by signing up for mailing lists from airlines and search engines, you'll be able to get updates about all the last-minute or special deals that are happening. Many times, the cheap flights are only available for 24 hours, and if you aren't always checking the web for them, you will miss out on many of the super cheap deals.
If you don't want to spend hours each week searching sites, leave the work to Mango Travel! We go through dozens of these emails (literally daily), find the best deals, and send them out to MangoNews community in one newsletter. If you don't want to subscribe to hundreds of newsletters from every airline and search engine, subscribe to MangoNews and let us do all the work for you.

Request your quote NOW

Pay with Q-card for 12 months interest free!
Phone 09 235 7515
E-mail: INFO@MANGOTRAVEL.CO.NZ