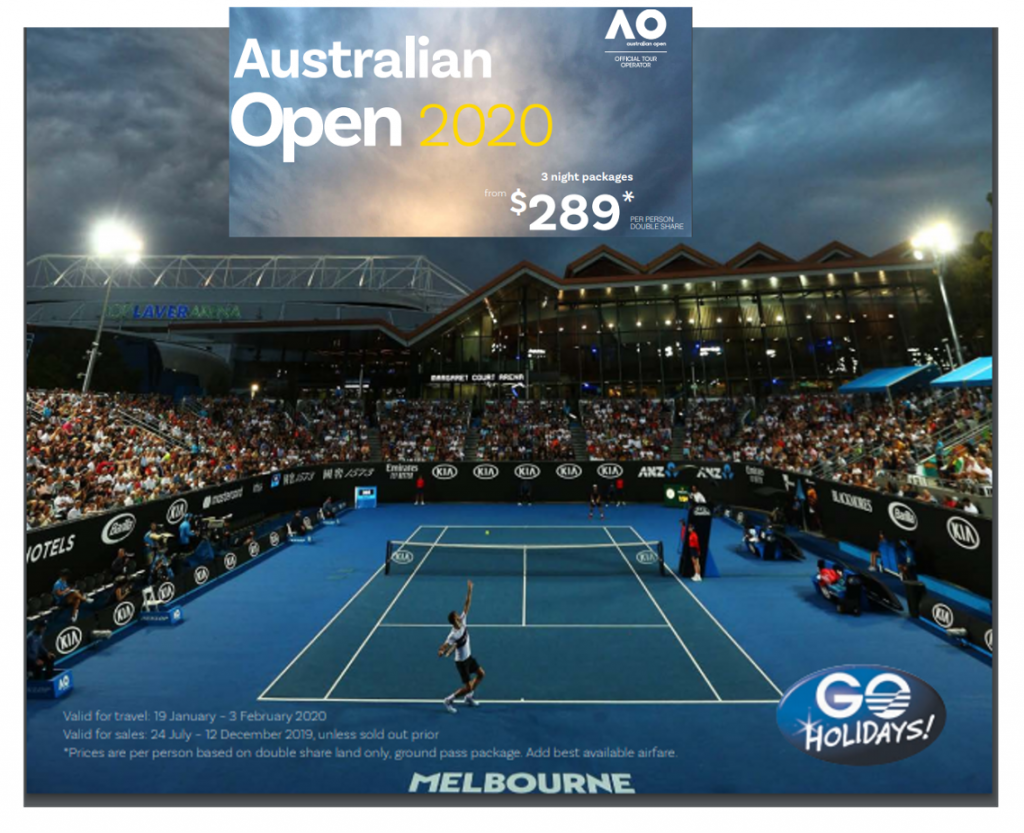 The Australian Open is a tennis tournament held annually over the last fortnight of January in Melbourne, Australia. The tournament is the first of the four Grand Slam tennis events held each year, preceding the French Open, Wimbledon and the US Open. It features men's and women's singles; men's, women's and mixed doubles and junior's championships; as well as wheelchair, legends and exhibition events.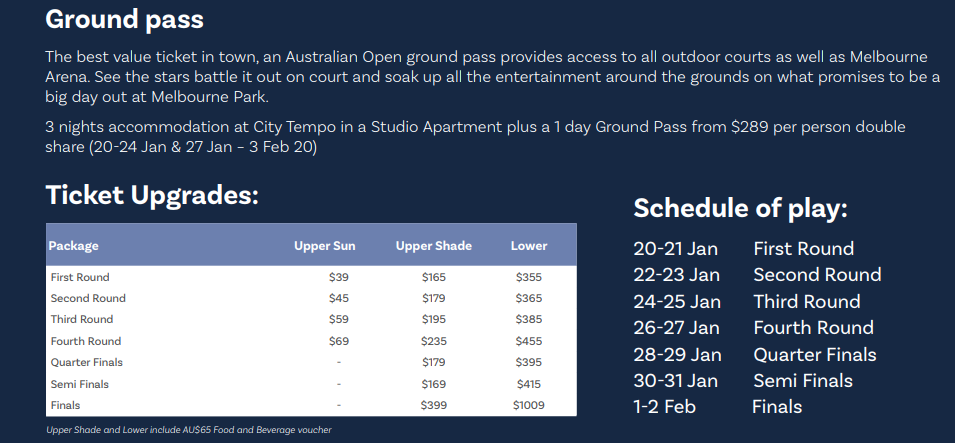 ***************Australian Open Packages****************
• 3 nights accommodation
• 1 x Upper ticket to a day tennis session at Rod Laver Arena
(First Round 20 Jan, Second Round 22 Jan, Third Round 24 Jan or Fourth Round 26 Jan 20)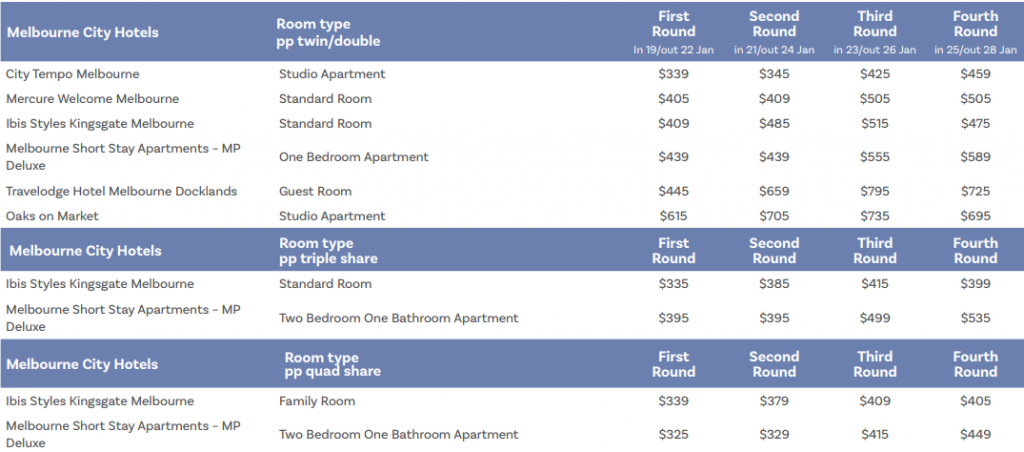 *********  Australian Open Finals Packages**********
• 3 nights accommodation
• 1 x Upper Sun ticket to a day tennis session at Rod Laver Arena (Quarter Finals 28 Jan or Semi Finals 30 Jan) OR 2 x Upper Sun tickets to the twilight sessions at Rod Laver to the Finals matches on 1 & 2 Feb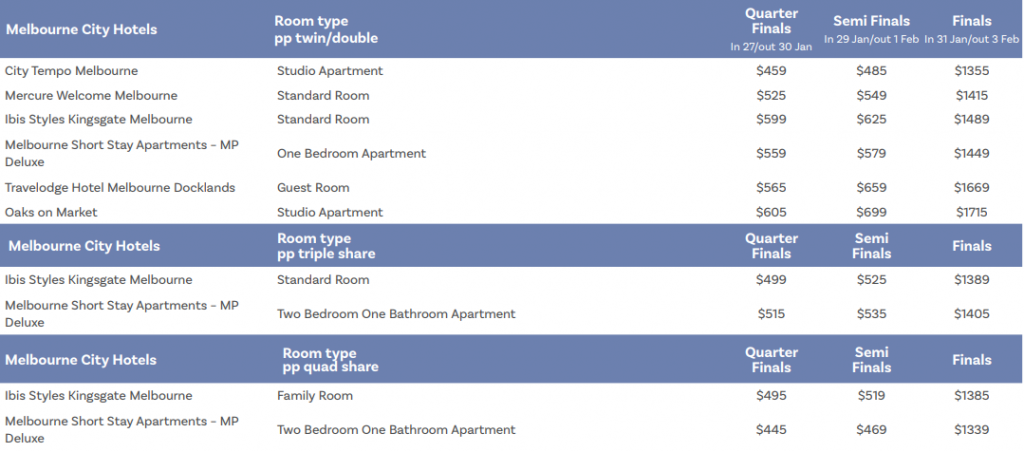 ---
****** Enhance your Australian Open experience and take advantage of 'The Travel Club' ********
Escape the Melbourne Summer heat and relax in air-conditioned comfort in your EXCLUSIVE getaway. With a range of food and beverages available for purchase, and private bathroom facilities, 'The Travel Club' is the perfect way to kick back, relax, and avoid the crowds. And with television screens positioned throughout, you won't miss a moment of the on-court action! 'The Travel Club' is exclusively for our customers and complimentary with the purchase of our Upper, Upper Sun, Upper Shade and Lower (shade and exposed to sunlight)
Ticket packages, available from 20 January to 2 February 2020. Purchase an Upper Shade or a Lower Ticket package that includes a $65 food and beverage voucher for use in 'The Travel Club' or at any participating outlet within the AO precinct You might even be lucky enough to get a photo with the Australian Open trophy or rub shoulders with a tennis luminary!
---
****Rod Laver Arena Fan Walk On****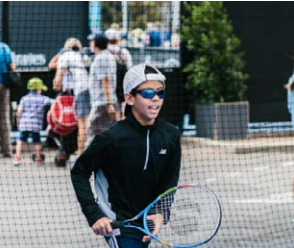 Guests will have the opportunity to walk onto the hallowed blue court and witness the player warm up from feet away, with a designated photo on court – this is a memory you'll never forget.
20 – 27 Jan day and night session – $219 per person
28 -30 Jan day and night session (excluding 30 Jan night session) – $359 per person
30 Jan – 1 Feb night and twilight session – $695 per person
2 Feb twilight session – $1395 per person Spaces are limited, book fast to secure your spot
---
BOOKING CONDITIONS:
It is our policy to try to present the true cost of our Holidays inclusive of all government costs and taxes. Please accept however that these taxes are not within our control. Therefore should a tax increase, we reserve the right to pass on any increase in cost. All prices are per person in New Zealand dollars, correct as at 28 June 2019 and are subject to availability at the time of booking. We reserves the right to adjust the package without warning due to the increase in ticket prices and currency fluctuations.
Valid for Travel 19 January – 2 February 2020
Valid for sales 24 July – 12 December 2019, unless sold out prior.
* Prices are per person based on double share land only, ground pass package
Australian Open 2020 tickets are purchased via Qantas Holidays Official Tour Operator of Australian Open. Please note there is limited availability on the advertised room types and all pricing is subject to change until a reservation is confirmed. Inventory & availability can change on a daily basis.
A non-refundable deposit equal to the Australian Tennis ticket value is required at time of booking. Reservations cannot be guaranteed without this. Final non-refundable balance of payment is due no later than 12 December 2019. All bookings confirmed after this date will require full non-refundable payment no later than 3 days after confirmation.
All Australian Tennis packages have to be purchased as a minimum of 3 nights consecutive accommodation.
Rod Laver Arena tickets are subject to Australian Open Ticket Condition of Sales and Entry.
The Travel Club is available to a maximum of 100 guests at any one time and entry is strictly subject to availability on the day, on a 'first come first served' basis. Upper, Upper Sun, Upper Shade and Lower ticket holders will have complimentary access to The Travel Club from Round 1 to the Finals. Day session Rod Laver ticket holders can access The Club from 10am to 4pm and night session Rod Laver ticket holders from 5pm to 9pm. Full booking conditions are shown in our 2019/2020 GO Holidays brochures. Documents will be dispatched approximately 10 days prior to travel.