Blissful Bali for 7 nights flying Emirates from
$1195 pp twin share

Known as the "Island of the Gods" Bali has an abundance of white sandy beaches where travellers can swim, surf or simply relax and watch the famed Bali sunsets. Vibrant culture, unique arts, stunning scenery and beautiful beaches combine with the legendary friendliness of the Balinese people. Choose your ideal holiday – a fun family vacation, a
romantic getaway, a relaxing spa break or pampering yourself in a luxurious hotel, Bali has it all!
HOLIDAY PACKAGE INCLUDES:
• Return Economy Class flights direct from Auckland to Denpasar with Emirates
• Accommodation as specified
• Bonus offers as specified
• All prepayable taxes and surcharges
A surcharge of $22 applies for outbound and inbound travel on Friday and Saturday
Kuta & South Kuta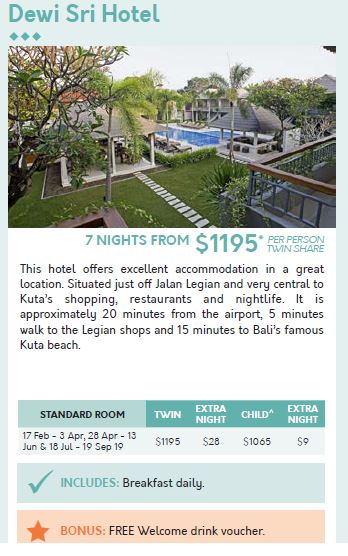 Bali's largest and busiest tourist area, with a vast range of
accommodation, entertainment and shopping options on offer. By
day, Kuta is one of Bali's best surfing beaches and in the evening
an ideal spot to first enjoy the sunset, then head to one of the
many bars and restaurants to experience the nightlife. South Kuta
provides a more laid back alternative with calmer water for
swimming, and close to attractions such as Discovery Shopping
Mall and Waterbom Bali making it popular for families.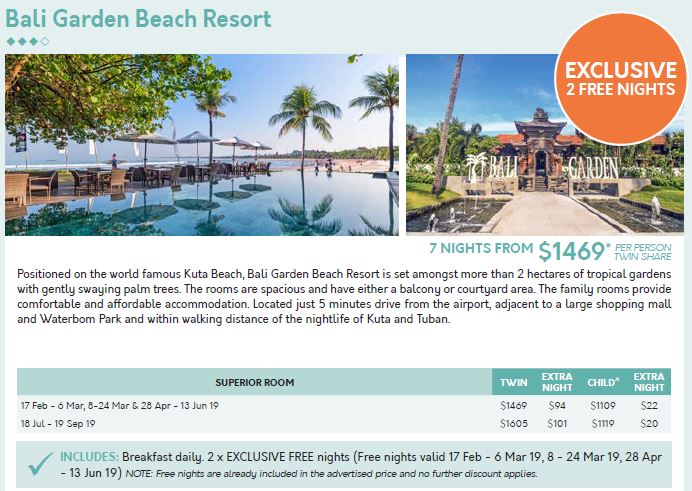 Seminyak
Chic and sophisticated, Seminyak is by far Bali's trendiest area. It's
brimming with fashionable European-style restaurants and bars
plus a wide range of shopping boutiques from international brands
to local designers. The beach comes alive at sunset when the
masses descend to the hip beachfront bars for chilled lounge
music and delicious cocktails.
Ubud
Live and breathe the Balinese culture in this beautiful mountainous
region. This spiritual area is a haven for yoga and wellness retreats.
Full of green terraced rice fields, sacred rivers and forests,
plunging valleys and ancient temples, Ubud's mystical and
spectacular setting will enchant you.
Legian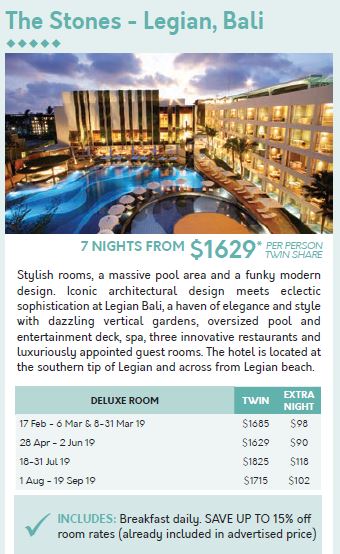 Nestled between bustling Kuta and upmarket Seminyak, Legian is
a relaxed yet entertaining area of Bali. A maze of roads and
alleyways, Legian is full of fantastic restaurants, markets, bars,
food stalls and shops. Hip, yet affordable entertainment and
accommodation options make it a popular area with visitors.
Nusa Dua
Nusa Dua is located on the southern peninsula of Bali,
approximately 45 minutes from Kuta. Home to some of the best of
Bali's beaches, Nusa Dua is the ideal place to relax. The gated
resort area boasts manicured lawns, clean streets and pristine
beaches, attracting honeymooners and families alike.
Bali Hideways
Discover another side to the Island of Gods and visit a hidden gem
like Candidasa in eastern Bali, with picturesque countryside and
clear water. Remote north west Bali is far from the bustling tourist
areas. From the village of Pejarakan, discover a different side of
Bali with national parks, wildlife and perfect diving.
Subject to Availability & until sold out. Call or message us your travel dates NOW!
Stay up to date on airfares and travel deals around the globe
Subscribe to our e-news letter below.
Pay with Q-card for 12 months interest free & payment holiday!
Request your quote NOW