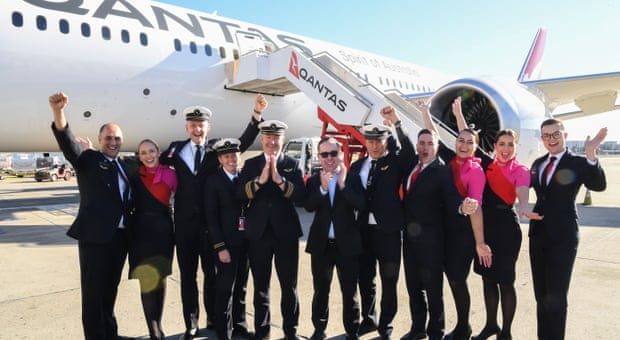 Qantas operated the first ever non-stop commercial airline flight between New York and Sydney over the weekend.
The flight took 19 hours and 16 minutes to travel the 16,200 kilometres between the two city points.
It's the first in a series of Project Sunrise test flights. Another flight between the two city pairs will be conducted later in the year, as well as a non-stop test flight between London and Sydney.
The purpose of the flights is to conduct scientific research on the passengers and crew on-board, monitoring their health and wellbeing. Tests on 49 people on-board the New York to Sydney flight included monitoring pilot brain waves, melatonin levels and alertness, and exercise classes for passengers. Data from these experiments will be used help shape the crew rostering and on-board customer service.
JFK-SYD: QF Test Flight Takes Off of QF's Project Sunrise and other ultra-long-haul flights in the future.
The findings on crew wellbeing will also be shared with the Australian Civil Aviation Safety Authority to help inform regulatory requirements associated with ultra-long-haul flights over 20 hours. Flight 7879 was operated by a new 787-9 aircraft named Kookabura. Four pilots were on rotation throughout the flight, with two additional pilots in the cabin, who had flown the new aircraft from Boeing's factory in Seattle to New York.
The flight travelled at 85% of the speed of sound, which is around 930 kilometres per hour. QF says a final yes/no decision on Project Sunrise is expected by the end of the year. If approved, flights would start in 2022/23. Both Boeing and Airbus have pitched aircraft (A350 and 777X, respectively) to QF for Project Sunrise.