Whether you're a first-time cruiser or a seasoned pro, there's always something new to discover on (and off) board a cruise. With so many choices, you won't want to miss a minute of the action – or the relaxation – that a cruise has to offer. So, before you set sail on the high seas, here are the top 10 best cruise tips and secrets to help make the most of your well-deserved holiday, save money on a cruise, and have a shipshape time:

1. Say ahoy to adventures ashore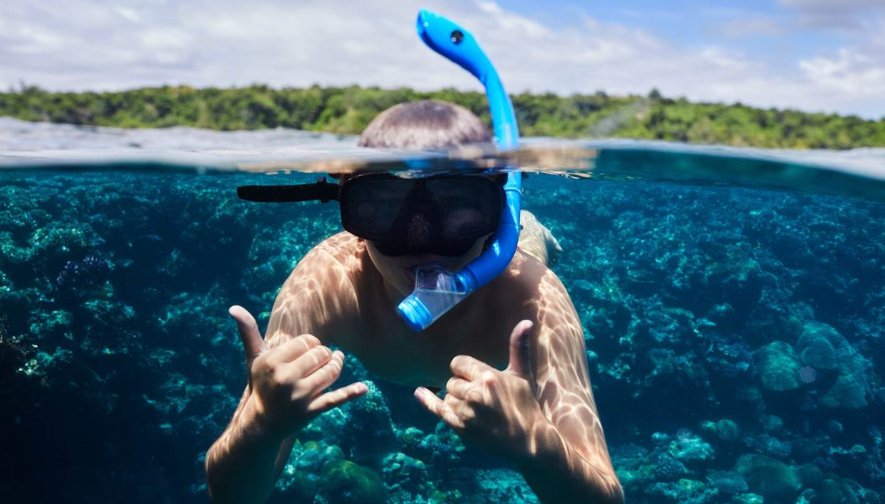 The first top tip to cruising you should know is how to take advantage of the amazing shore tours available on your trip. The key? Book shore tours in advance.
Not only will this remove the hassle of arranging your own onshore activities, but you can relax knowing you're guaranteed to see amazing sights, hand-picked your cruise company. Another handy outcome is that your ship won't depart until everyone of the official shore tour is back onboard – so you can focus on having fun without constantly checking the time.
From ancient temple visits to tropical beach excursions, shore tours are a great way to make new memories and new friends with other cruisers – remember to ask you agent all about those treasured excursion options!
2. Get cosy with the concierge
Whether you're cruising for a weekend or a few weeks, it's important you feel as comfortable and relaxed on your holiday as possible. Your onboard concierge team will be happy to help make your cruise even more special – so don't hesitate to ask about the additional services and extras available.
Some helpful extras include towels, umbrellas, and yoga mats, plus laundry services, shoe shining and express ironing to keep you feeling and looking your holiday best. For suites and mini suites, there's the added bonus of a pillow concierge, dry cleaning and laundry included in your fare!
Don't forget to take advantage of the in-room food and beverage menu. After a big day on shore you might prefer to stay in for dinner and watch a movie on your TV.
10 cruise secrets you should know about | P&O Cruises Australia
3. Food for thought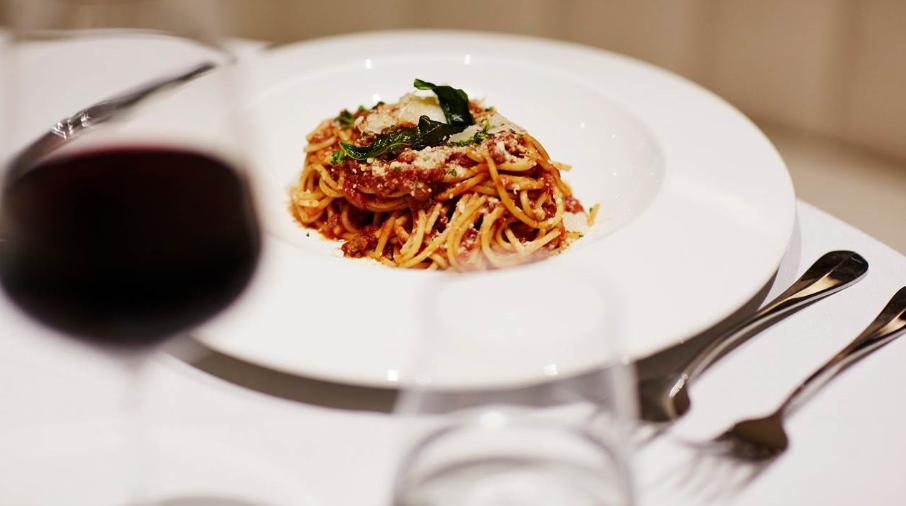 A wide range of mouth-watering food, beverage and dining options are offered and included in your fare – so if you're a foodie, be sure to do some research beforehand so you don't miss a single bite. What sets us apart from the rest is the fresh food sourced through local suppliers.
Heard of the My Table Dining option? You're in for a tasty treat. This nifty service allows you to enjoy dinner at both the same time and table each night with a choice of two seating time options. Get in early and you could be dining with the best view on the ship, every night.
If you want more flexibility, check out the My Choice options to dine when, where and how you choose. Dine at a different table every night and meet your fellow cruisers. There's also our trusty P&O Favourites, offering everything from delicious burgers by the poolside to expertly brewed coffee. There are a number of trained baristas onboard every ship on every cruise, so stop by one of our cafes whenever you're in the mood. Plus  – our casual dining venues serve up all of your classic favourites. Want to take your dining experience to the next level? Check out our Specialty Dining selection and enjoy celebrity chef dining at Salt Grill by Luke Mangan to 400 Gradi, brought to you by Johnny Di Francesco, award winning Melbourne chef. These restaurants book out fast, so make a reservation even faster.
10 cruise secrets you should know about | P&O Cruises Australia
4. Book your beverages and save
If you fancy a cocktail while you cruise, a lager while you lounge, or a wine while you dine – this tip(ple) is for you. By pre-purchasing your drinks Package you can save a significant amount on the per person per day price.
P&O for example offer a delightful range drinks packages, so whether it's our Soft Drink Package – with unlimited cans of soft drink for the duration of your cruise – or our new The Lot! Beverage Package available on cruises 7 nights or more. You'll love knowing your drinks are taken care of so you can focus on the fun.
5. Fuel your family fun
Want some tips for cruising with kids? A cruise holiday is perfect for families, groups and special events. From delicious food, waterslides, there's something for everyone – even if you have different interests. The choice of onboard activities and onshore options will keep every member of your group occupied and happy.
We offer four-age specific kids-clubs, all included in your fare. Endless activities such as arts and crafts, music and sports games are available – not to mention brand new friends.
Dreaming of date night? We've got you covered. P&O offer a late-night child minding service so you can have a night alone or with your loved ones, any time you like.
6. Make the most of your me-time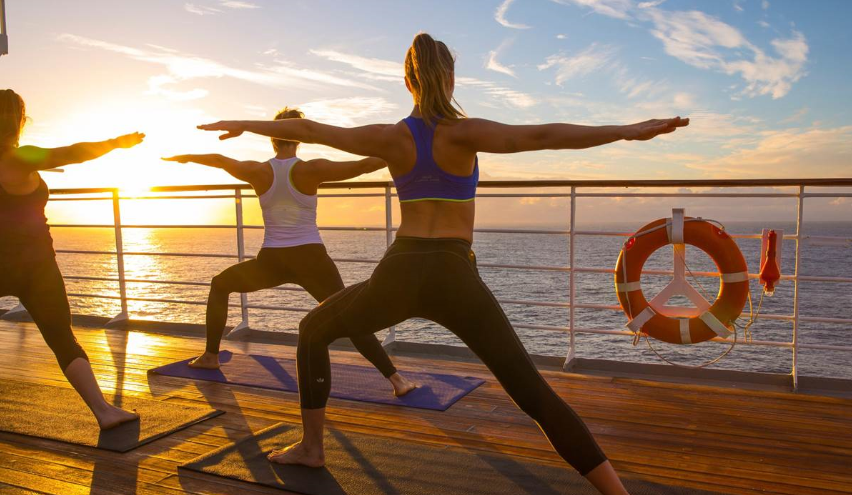 Cruising is synonymous with relaxation, so remember to make the most of your me-time. Whichever way you like to unwind, you'll have everything you need to find your Zen – from reading and exercise to shopping and beauty.
A huge collection of health and fitness options are on offer, from yoga classes to our walking and jogging track. You can indulge in some retail therapy, get stylish at the hair salon, or learn something new with our range of classes – the choice is yours!
7. Up the entertainment factor
If you're planning on a fun-filled holiday, a cruise is a great place to party – in fact,  three themed parties on some cruises, depending on cruise length!
Fancy a show? Amazing productions are included in your fare, so be sure to check what glitz and glamour is available when you're booking your trip. You can also catch different music every night, with performances ranging from acoustic guitar duos to party bands playing blues, jazz, funk and RnB. We even screen sporting events, movies and run Wii games.
8. Take adventure to the seas
There is plenty room for activities –  where you can do everything from rock climbing and zip lining to the Walk the Plank challenge.Ffamilies will love the interactive waterpark and waterslides. You and your crew will never be bored.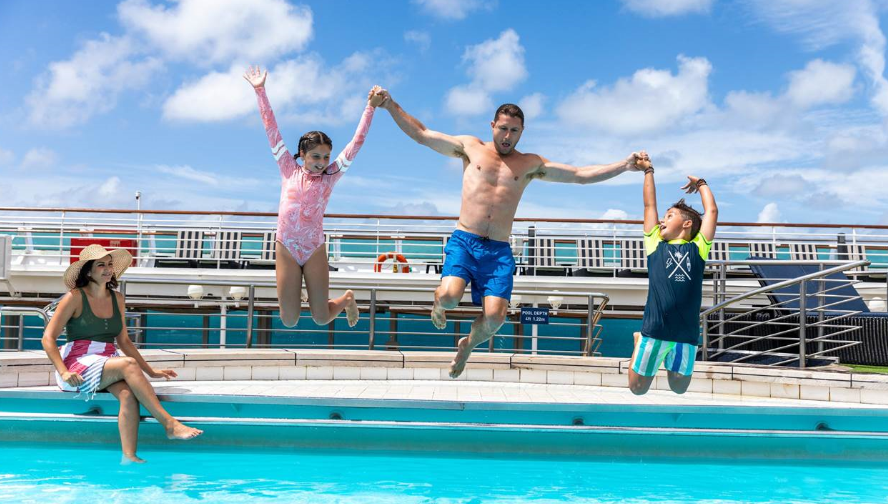 Some of our cruises are one-way,or our short break repositioning cruises. This is a nifty way to travel with all the added benefits of a cruise, so you can arrive at your destination (or home) fully rested. Conveniently,
9. Explore your extras
Cruises are brimming with awesome extras. It's all about doing a little research to find the best ones for you. There are options to make your holiday even more special, like upgrading your room, booking a specialty dining experience, buying a spa voucher or taking a shore tour with a private vehicle. You can book all your exciting extras through Cruise Control.
10. Stay in the know
It pays to stay in the know. To receive regular updates, tips and deals, it's a good idea to sign up for the best cruise details, early-bird offers, and news as soon as they hit the deck.
 Some  cruises are one-way, or our short break repositioning cruises. This is a nifty way to travel with all the added benefits of a cruise, so you can arrive at your destination (or home) fully rested. Conveniently, your agent will also be able to help you with your flight booking, so everything will be looked after.
Simply booking a cruise is exciting enough – all these extras tips and tricks are just additional ways to make your holiday even more memorable. To find out more call your agent now!