Have you ever considered going to Raro for you next holiday??  Let's find out a bit more about this lovely island destination: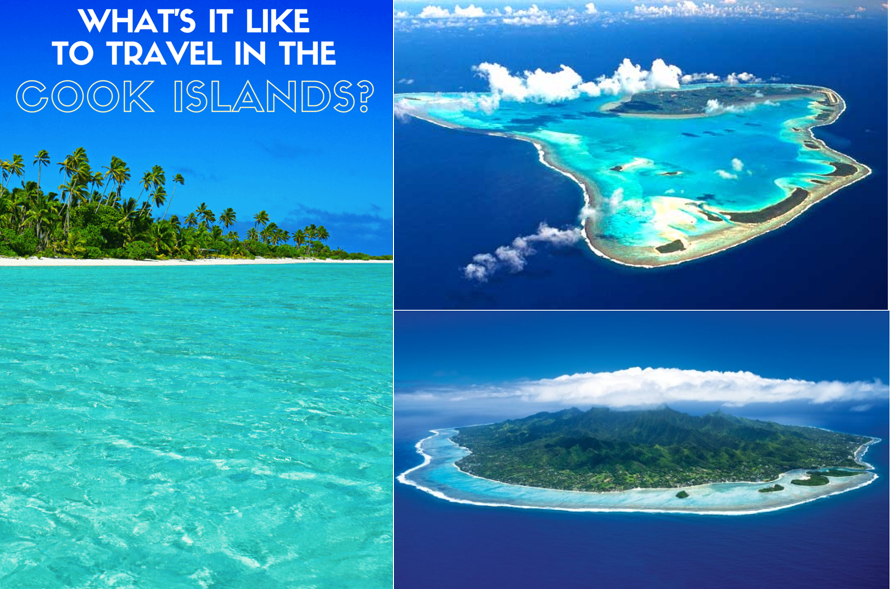 The 15 Cook Islands, formed by volcanic activity, are scattered across the south Pacific Ocean.
These unspoilt Polynesian tropical gems have the combined population of around 20,000, comprised of unique and friendly people. Most Cook Islanders dwell on the capital island of Rarotonga, which is also where most of the 70,000-odd annual visitors stop off, arriving at the island's international airport.
Circular Rarotonga is almost completely enclosed by a reef, harbouring a lagoon of clear turquoise water and white sandy beaches. The small island is dominated by a high mountain peak from where lush rain forests cascade down to the palm-fringed shore. The commercial centre of the islands is the friendly, bustling town of Avarua on Rarotonga, which has banks, shops and tourist facilities as well as a busy port and yacht basin. The outer islands are becoming increasingly popular for excursions, remaining largely unspoiled by tourism.
The Cook Islanders have their own language and government, and enjoy a vigorous and diverse culture with significant differences between each island. Even if you go no further than Rarotonga, though, you will be ensured of a dream 'South Seas' holiday experience on the pristine beaches, snorkelling the reef, or exploring the island by bus, motor scooter, bicycle or jeep
Time: Local time is GMT -10. New Zealand is 22 hours ahead of the Cook Islands
Electricity: Electrical current is 240 volts, 50Hz. The three-pin flat blade plug with two slanted pins are used.
Language: Cook Island Maori is widely spoken by locals, but English is in common use.
Tipping Tipping is not expected and is contrary to Cook Islands custom.
Safety Information Visits to the Cook Islands are usually trouble-free. There is relatively little crime, but it is always advisable to protect your valuables.
Local Customs: Inhabitants of the Cook Islands are very religious and frown upon inappropriate dress. Beachwear should not be worn in town, and topless sunbathing is not acceptable behaviour.
Business: The main business centre is Avarua on Rarotonga Island. The business environment in the Cook Islands is fairly casual and relaxed. However, punctuality is important and dress should be modest, particularly for women. Meetings will be conducted in English when foreigners are present, although islanders may speak to one another in Maori to clarify their understanding during proceedings. It is not meant as an offence. Meetings usually begin and end with a prayer. Business hours are generally 8.30am to 4.30pm, Monday to Friday.
Communications: The country code for the Cook Islands is +682, and the outgoing code is 00 followed by the relevant country code (e.g. 0044 for the United Kingdom). City codes are not required. International Direct Dialling is available, but operator assistance may be required.
In the main town of Avarua, there is a telecommunications office, Telecom Cook Islands, offering international telephone, fax, email, internet connections and other services. As of 2015, the Moana Cable System has been under construction in order to cope with the region's increasing internet traffic. Hoping to connect homes and business, it is scheduled to be completed in 2018.
Duty Free: The following goods may accompany travellers over 18 years to the Cook Islands: 2 litres of alcoholic beverage or 4.5 litres of beer and 200 cigarettes or 20 cigars or 250g of tobacco. Fruit and vegetable imports are prohibited but meat from New Zealand will be considered if properly packaged. No firearms, cartridges or cartridge cases, gunpowder, bullets, and other forms of ammunition are allowed without prior permission from the Minister of Police.
Climate: The climate in the Cook Islands is tropical, fairly constant and placid. The rainy season coincides with the hottest time of year, between November and March, but the rain usually falls in the form of late afternoon storms. These cool the air temperature and give some welcome relief from the heat which averages around 82ºF (28ºC) at this time of year.
There is also a risk of cyclones and hurricanes during the hot season. Although these violent storms can do serious damage, the Cook Islands generally don't get hit too hard and extreme weather conditions are rare. The worst month for storms is February. The cooler, dry season, when temperatures range from 70ºF to 80ºF (20ºC to 26ºC), runs from April to October.
The Cook Islands are a year-round destination because the weather ensures it is almost always suitable for swimming and beach lounging, which is the main reason people visit. Prices for accommodation and the like are pretty constant all year as there is not a 'peak season' for tourism. The best time to visit the Cook Islands is probably in the slightly cooler months when there is no chance of cyclones or serious storms.
Sundays: Sunday church services are held between 10am and 12pm and visitors are made to feel most welcome. To experience uplifting traditional church singing, attend a Cook Islands Christian Church service. Each village church was hand built of limestone and hand hewn timber by the forefathers of today's Cook Islanders. Light refreshments are served after the church service.
Passport/Visa
Proof of onward passage, adequate financial means to support the stay, and proof of confirmed accommodation are required on entry into the Cook Islands. We recommend that passports be valid for six months beyond intended period of travel. Visa extensions are possible
ENTRY REQUIREMENTS FOR NEW ZEALANDERS
New Zealand nationals must have a passport valid for seven days beyond period of intended stay. A visa is not required for a stay of up to 90 days.
ENTRY REQUIREMENTS FOR SOUTH AFRICANS
South African nationals must have a passport valid for six months beyond period of intended stay. A visa is not required for a stay of up to 31 days. Passengers who want to stay over 31 days can obtain an Entry Permit on arrival.
Money  The currency of the Cook Islands is either the Cook Islands Dollar, which is divided into 100 cents, or the New Zealand Dollar (NZD), which is also divided into 100 cents. Foreign currency exchange is available at the airport and two banks in Avarua. ATMs are also available in Avarua and are slowly becoming more widespread. American Express, Visa and MasterCard are accepted at restaurants and hotels in the main towns, and major foreign currencies can be exchanged at larger shops and hotels. Banks are open Monday to Friday from 9am to 3pm.
---
Rarotonga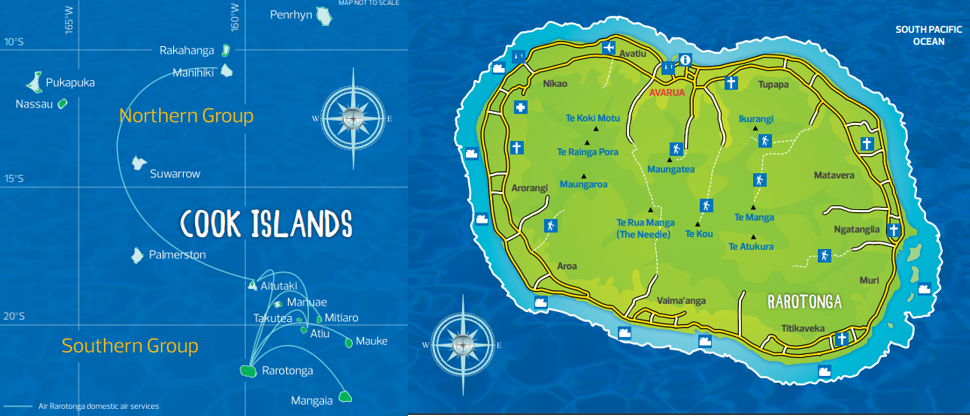 The largest of the Cook Islands, Rarotonga, is home to nearly three quarters of the archipelago's 20,000 citizens, most of whom live in settlements along the coast. The island is home to the capital, Avarua, and is also the most popular tourist destination in the Cook Islands.
Avarua is the only major town, and with a population of just 5,000, even that is small. It contains a few restaurants, bars and shops. Rarotonga's attractions are not urban ones, however, but lie in the spectacular natural beauty of the island. The interior of Rarotonga is a stunning mixture of jagged mountains and lush green jungles that give way to sparkling white sand beaches and the blue waters of the South Pacific.
Snorkelling and scuba diving, along with other watersports, are the most popular activities in Rarotonga. A healthy dose of relaxing and enjoying the beautiful beaches balances out the more physical activities. The circular island is nearly completely surrounded by coral reefs that contain tropical fish, octopuses, eels, and other colourful marine life. Aroa Lagoon, Fruits of Rarotonga Beach, and Black Rock are popular areas for snorkelling and scuba diving. The reefs and lagoons make Rarotonga less than ideal for surfing, but create perfectly calm areas for swimming, like the idyllic Muri Lagoon.
Muri Beach is a two kilometre long white sandy beach. A leisurely stroll and along your way and to one side, the reef and four easily accessible tiny islets, known as motu, nestle invitingly in the lagoon – Ta'akoka, Koromiri, Oneroa and Motutapu. To the other side the lush hills and mountains are visible through trees which offer shady respite from the tropical sun.
There are also restaurants, bars and several places to hire water sports equipment. Marine life is abundant in the lagoons of Rarotonga, making for great snorkelling, or lessons can be booked with all scuba-diving operators.
from the crew, they're a fun filled day out. Muri lagoon is also the best location for windsurfing and kitesurfing, while kayaking is possible just about everywhere around Rarotonga. Windsurfers, kayaks, kitesurfing and standup paddleboards can be hired from water sports outlets and most hotels located on the foreshore around the island.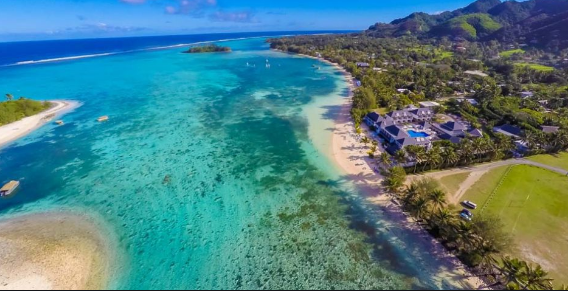 ---
Airports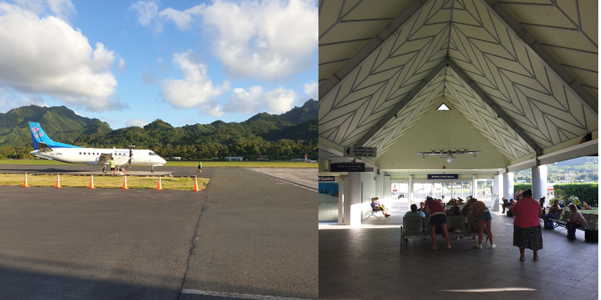 · RAR – Rarotonga International Airport.
Location
The airport is situated two miles (3km) west of Avarua.
CLEARING CUSTOMS
Personal effects including sports equipment and clothing are exempt from duty. Duty free items allowed include up to 250 cigarettes, or 250gms of tobacco, or 50 cigars, 2 litres of wine or spirits or 4.5 litres of beer. However, goods in excess of NZ$750 could be subject to duty. Any food items must be declared on arrival otherwise they could be confiscated
Getting to the city
Hotel courtesy buses meet every flight, and public buses service the island; the bus stop is across the car park from the terminal. Taxis are also available.
Car rental: Car rental is available and includes well-known companies such as Avis and Budget.
Facilities: Facilities include a bureau de change and ATM, duty-free shopping, some small shops and restaurants. Facilities for the disabled are also available. The airport is only open during arrival and departure times.
TOP 10 THINGS TO DO IN RAROTONGA: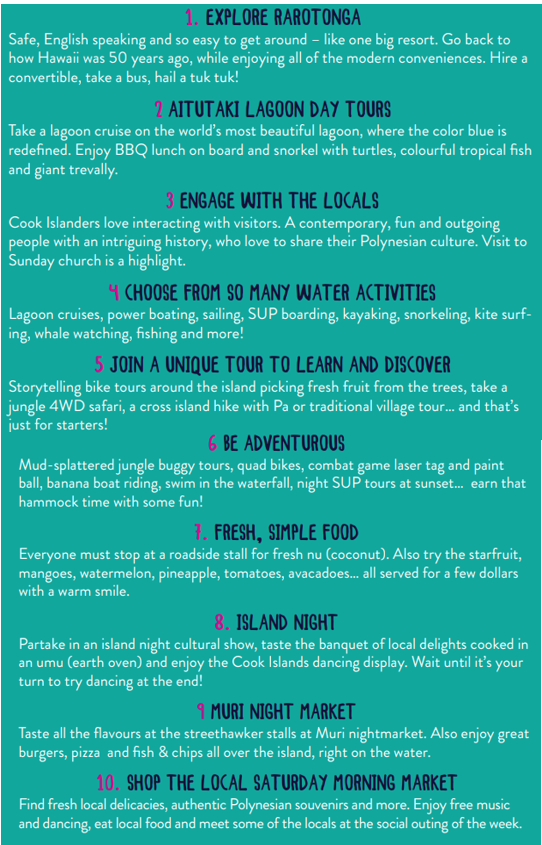 ---
Aitutaki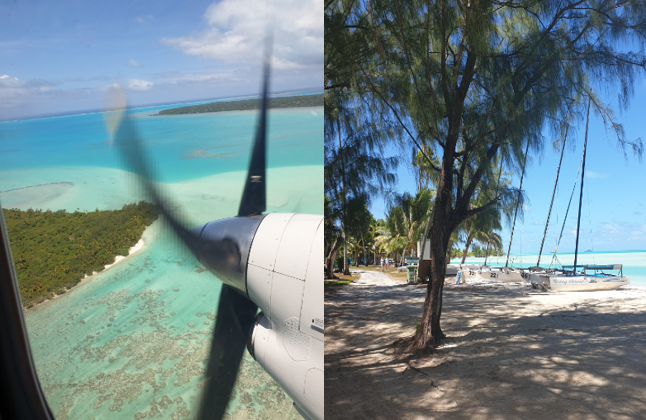 The advantage of a little paradise is the world's most beautiful lagoon is within easy reach of Rarotonga. Just 220 kilometres north and an easy 45 minute flight is this huge turquoise, sunlit lagoon decorated with 15 motu (islets) and an emerald green main island. When people use bucket list and South Pacific in the same sentence, they're talking Aitutaki. Undisputedly one of the most beautiful destinations in the region, we even named one of our sandbars 'heaven'.
A triangular shaped reef encompasses Aitutaki lagoon which is imbedded with massive coral heads – home to countless varieties of brilliantly coloured tropical fish and marine life. It is this spectacular lagoon that makes Aitutaki unrivalled in the Cook Islands for water activities.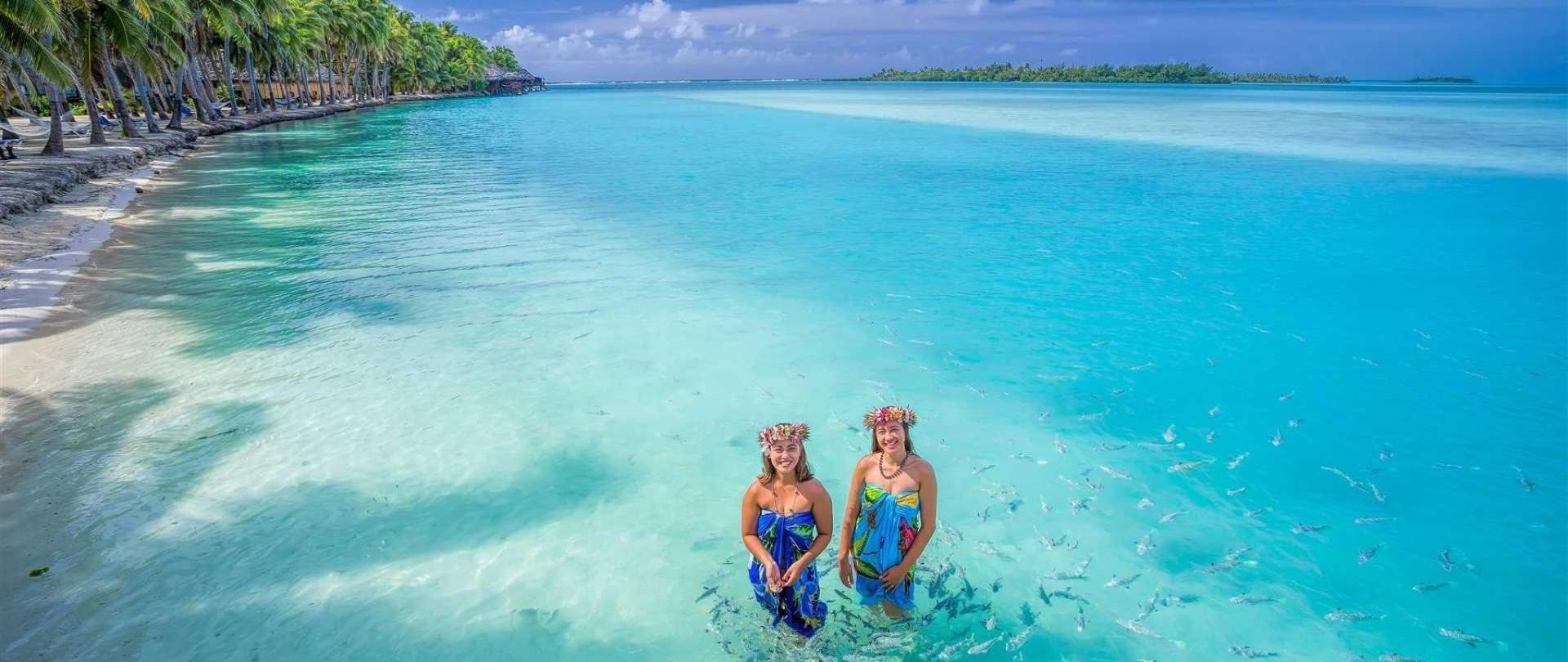 ---