What to see and do in Hong Kong on your next layover.

Hong Kong

– The home of Jackie Chan, Bruce Lee, Stanley Market, Hong Kong Disneyland, Victoria Peak, The Hong Hong Sevens and a Culinary Foodie Experience like no other!

Made up of more than 200 tropical islands, and with an intense metropolitan epicentre boasting with the world's largest number of skyscrapers and the longest suspension bridge for rail and road traffic.

Hong Kong occupies a unique position in past and present as a territory straddling two worlds. Since the handover in 1997 Hong Kong has become a 'Special Administrative Region of China'. No longer a subject of British colonial sovereignty much of Britain's cultural and economic influence is still evident in this capitalist utopia embed with in the world's largest Communist country
If you're transiting at the
award-winning Hong Kong International Airport

– the home of Cathay Pacific and Cathay Dragon – then get ready for island life, but not as you know it…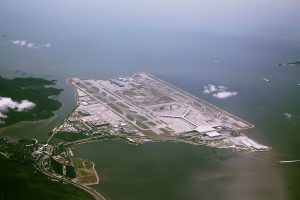 Chek Lap Kok Airport as it is locally known is celebrating 20 years this year since its opening in 1998 after replacing the previous Kai Tak Airport. Build on reclaimed land around the island of Chek Lap Kok.
Top things to do in Hong Kong International Airport during a layover.
UA Imax Theatre
Aviation Discovery Centre with SkyDeck
GreenLIVE Golf Simulator
Dream Come True Educational Parks for kids
Plaza Premium and Transit Lounges
How to commute from the airport?

Hong Kong International Airport is located just over 35 kilometers from the centre of Hong Kong and takes just under 30 min with the Airport Express Train.
MRT – Airport Express Train:  Round trip from airport to Hong Kong and back to Airport for adult price at

$110 HKD ($20 NZD approximately).

 Total journey is 24 min, with departures every 12 min.
Bus: The more economical option at $33 HKD

($5.5 NZD approximately)

 with stunning views over the South China Seas and a trip that takes you over the longest suspension bridge in the world for rail and road traffic, the Tsing Ma Bridge over the Ma Chan Channel connecting Lantau Island with Hong Kong. 
Taxi: It's all about the colour. In Hong Kong taxis are one of three colours and you need to know where you want to go before you pick a colour. When in doubt go red. From the airport to downtown Hong Kong you can expect to pay approximately $40 NZD. Red coloured taxis service

urban areas including all of Hong Kong Island and Kowloon

(Downtown Hong Kong is located on Hong Kong Island to the south of Victoria Harbour facing Kowloon to the north). By taxi from the airport to Kowloon via toll road is just under 40 min.

Green

Taxis service

New Territories

, the area to the North of Hong Kong on mainland China, mainly residential and off the beaten track for tourist to Hong Kong. Blue taxis service Lantau Island (Island just south of Chek Lap Kok Island, which the Airport is located on) which is perfect if Disneyland and the massive Tian Tian Buddha and hiking treks are your destination.
At the Airport
UA IMAX Theatre

, the largest giant screen in Hong Kong accomodationg 350 audiences.

Located in terminal two on level six near the food court in the non-restricted landside area, it the perfect way to burn two to three hours at the airport.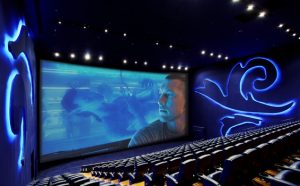 The theatre is designed and positioned to maximise each audience's field of view and its projection technology possess various proprietary features including crystal-clear images, laser-aligned digital sound system as well as immersive theater design. Cinema-goers will be impressed by the world's most immersive movie experience either watching IMAX 2D or IMAX 3D movies.
Open: Monday to Friday from 11:00 am to 22:00 (10:00 pm) and on Saturday, Sunday and Public Holidays from 9:30 am to 22:00 (10:00 pm).
Cost: Varies depending on 2D and 3D experience and movies on offer, follow link for UA official site: https://www.uacinemas.com.hk/eng/main
Aviation Discovery Centre

with SkyDeck –

"Our Favourite" 

The Aviation Discovery Centre (ADC) is targeted to provide a channel for visitors to discover the fascinating aviation related topics with focus on the aviation development of Hong Kong through fun and exciting settings. The ADC is decorated throughout with aviation themed exhibits and graphics with attractions. Allow at least two hours to fully experience the ADC and Skydeck.
Located in terminal two on level six, near the food court and Imax theater. The ADC is open from 11:00 am to 10:00 pm Monday through to Fridays with extended hours over the weekend and public holidays from 9:30 am in the morning to 10:00 pm at night.
The Aviation Discovery Centre leads through to a large outdoor platform titled SkyDeck, and it's the optimal spot to enjoy a unobstructed and mesmerising 360-degree view of the majestic architecture of Hong Kong International Airport, as well as get up close to see planes land and take off every two minutes. The Skydeck is fitted with speakers that allows visitors to listen to life airport tower and pilot chatter.
Cost: Entry to the Aviation Discovery Centre is free of charge, note to access the SkyDeck area is $15 HKD ($2.70 NZD approximately).
GreenLive AIR

– Virtual 9 and 18 Hole Simulation Golf Course.
Golfzone is the world's largest indoor golf club with simulators that are used by the Korean and China National Teams and endorsed by the LPGA tour, the precise accuracy of GOLFZONE simulators allow for a unique indoor gold experience that allows you to learn the game, improve your game and have fun.
Located in terminal two on level six, near the food court and Imax.
Open: 10:00 am to 10:00 pm Monday to Sunday.
Cost:  One hour in driving range area starts at $200 HKD ($36 NZD approximately) and $500 HKD ($89 NZD approximately)  for a private room.
Dream Come True Education Park

– Where kids can pretend to be adults in their dream professions through uniformed role playing activities.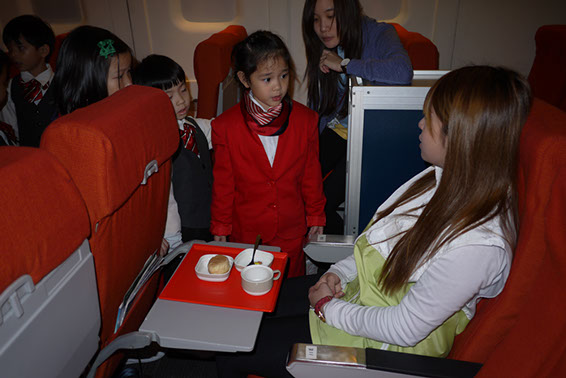 This 3,000 sq.m. facility allow kids  to experience real-life work environments from pilot, flight attendant, firefighter, astronaut and more… The Park features around 20 groundbreaking attractions, including the first My Cup Noodle Factory located outside of Japan, and the world's first Demae Iccho Factory.
Located in terminal two on level six, near the food court.
Open: 9:30 am to 7:00 pm Monday to Friday and from 9:00 am on Saturday and Sundays to 7:00 pm.
Cost: Children aged 3 to 16 years – $320 HKD ($57 NZD approximately) and adults (17 years and above) from $160 HKD (429 NZD approximately).

Plaza Premium Lounges

– Five (5) lounges throughout terminal one (1) and two (2) located near departure and arrival gates.

Escape the hectic airport atmosphere and head to one of the Plaza Premium Lounge at Hong Kong International Airport. Restore your body and revitalize your senses in preparation for your next destination. The lounges provides superior service to meet the demands of all travelers, and provides a hassle-free transit from Hong Kong to any destination.

Open 24/7 to all travellers, irrespective of airlines or class of travel. Enjoy high-quality service, relaxation and comfort away from the airport hussle and bussle as your recover from travel fatigue and common airplane ailments.

Cost:  Depending on your needs, choose from multiple hourly slots of relaxation in the lounge facilities.

12 hours from $127 NZD – pre purchase through Mango Agent

Six (6) hours from $108 NZD- pre purchase through Mango Agent

Three (3) hours from $81 NZD- pre purchase through Mango Agent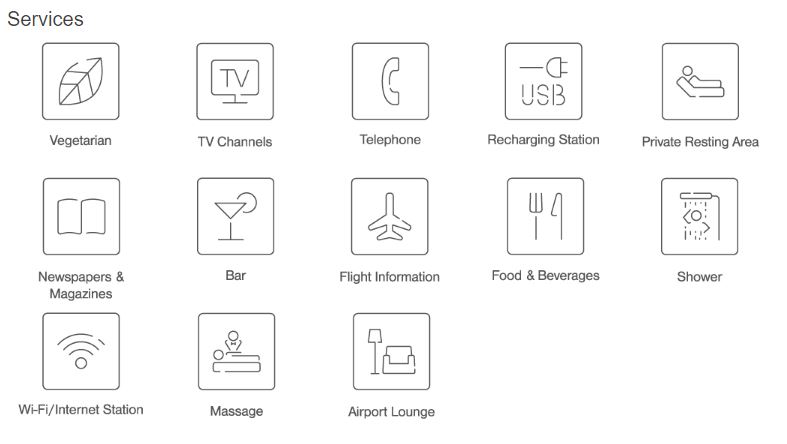 1. Plaza Premium Lounge – Located near Gate 40 in terminal one (1), departures side.
The flagship boasts a whole new modern contemporary lounge design by leading Hong Kong designer Kinney Chan of KCA.
2. Plaza Premium Lounge – Located near Gate one (1) in terminal one (1) on level six (6), departures side.
3. Transit Resting Lounge by Aerotel – Located near Gate 35 in terminal one (1) on level six (6), departures side.
The only one-stop, round-the-clock shower-massage-snooze service facility takes air travellers to a refreshing journey. Managed by Aerotel, the international airport transit hotel chain under Plaza Premium Group, the facility operates flexible bookings in hourly slots.
4. Plaza Premium Lounge – The world's first arrival lounge located in terminal two (2) on level three (3), arrivals side
The lounge is designed specifically for travellers arriving into the Hong Kong International Airport who may need a place to refresh ahead of going into the city or a lengthy layover. This is also ideal for guests who arrive early and cannot check in to their hotel or guests who require a space to work.
5. Plaza Premium Lounge – Shower and Relaxation – Located near gate 60 in terminal one (1) on level seven (7), departures side
This unique lounge provides an ideal haven away from the crowds. Guests are able to refresh and relax by using our shower and massage services. We provide shower rooms equipped with a power shower and complimentary first-class amenities, including towels. We also join hands with the organic Australian spa brand Jasmin Aromatique to tailor our spa menu at the airport.